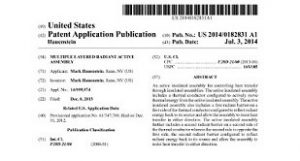 Multiple Layered Radiant Active Assembly Patent Approved by USPTO
I am pleased to announce that application US2014/0182831 "Multiple Layered Radiant Active Assembly" was granted patent status on 9/27/17. This patent is about creating active insulation layers and recognizes the radiant component as either reflected or converted to conductive and removed from the assembly. New materials and methods mean insulated assemblies can be thin and active which will change how structures are built; not to house passive, mold laden, bulky insulation. Assemblies that reduce heat transfer in a lower cost way before it has to be handled by energy consuming mechanical systems. This continues my work to develop ideas around energy related, reduced carbon technologies.
Nikhil Patel with Brown Rudnick in Boston was instrumental in working with the examiner and myself to accurately communicate the novel aspect and crafting the claims to reflect my intent. To me, Nikhil is a rock star among patent attorneys. Nikhil, Thank you!